Webinar to Address Substance Misuse During COVID-19
The Rx Abuse Leadership Initiative (RALI) of Iowa hosted a webinar on June 25 with local partners CHPcommunity, UCS Healthcare, Employee and Family Resources, and special guest Mayor Scott Cirksena, to discuss the impact of the COVID-19 pandemic on Iowans struggling with substance use disorders, and how all Iowans can help.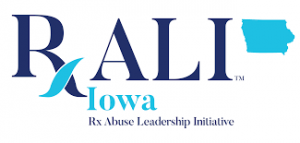 RALI IOWA CO-HOSTS WEBINAR
RALI Iowa is an alliance of local, state and national organizations dedicated to finding solutions to address the opioid crisis. As Americans continue to fight the COVID-19 pandemic, RALI is continuing efforts to safely address the opioid epidemic across the state.
Mayor Cirksena opened the event with welcoming remarks and thanked RALI Iowa for facilitating the discussion and their continued efforts to combat opioid and substance misuse in communities across the state. "We lead by example," said Mayor Cirksena. "It's important for people to know that we're in the fight with them… We know COVID in general will spawn a series of mental health conditions with a lot of people in response to the pandemic, so we have to be in the fight with them. They have to know that they can turn to their local leaders that can help guide them to resources like our team here this morning."
Panelists included representatives from three local partner organizations, CHPcommunity, UCS Healthcare, and Employee and Family Resources, who discussed the resources and support they are providing to Iowans during the era of COVID-19.
Joe Abdalla of Code 3 took participants on a virtual tour of the RALI CARES experience, a program designed to educate parents, educators, and community members working with teenagers and young adults about the early signs of substance misuse that often go unnoticed. The entire webinar discussion was recorded and is available for viewing by clicking the button below. To learn more about RALI, early warning signs, the virtual trailer, and more visit rali-ia.org.
The Rx Abuse Leadership Initiative (RALI) supports programs that help prevent the misuse of prescription medicines so that more lives can be saved from the opioid crisis. We do this by bringing together community leaders and elected officials who are committed to finding effective solutions and sharing ideas that will make a difference across the state.