Iowa Community HUB selected to ACL's National Learning Community for Hubs
ACL, in partnership with the CDC, is pleased to announce the selection of 58 organizations for participation in the Community Care Hub National Learning Community (NLC). The organizations, representing 32 states, will engage in one of two learning tracks to bring together organizations serving as Community Care Hubs that are either in development or interested in expansion.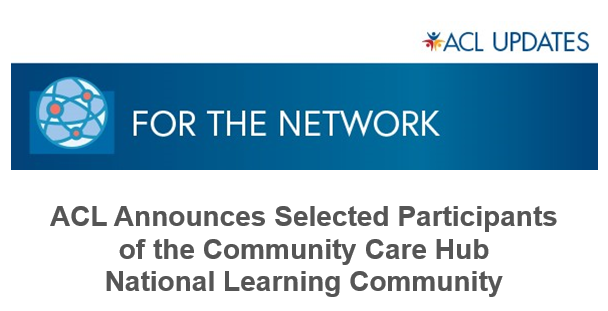 ACL Community Care Hub National Learning Community 
The Iowa Community HUB was recently selected to the ACL's Community Care Hub National Learning Community. The selected organizations will participate in shared learning, information and resource sharing, and technical assistance coordination with the goal of building the strength and preparedness of each Community Care Hub to address health-related social needs and public health needs through contracts with health care entities.
A Community Care Hub is a community-focused entity that organizes and supports a network of community-based organizations providing services to address health-related social needs. It centralizes administrative functions and operational infrastructure including, but not limited to, contracting with health care organizations, payment operations, management of referrals, service delivery fidelity and compliance, technology, information security, data collection, and reporting.
Community Care Hubs play an important role in promoting an equitable health and social care ecosystem. They serve as the bridge between community-based organizations, health care payers and providers, and public health systems to increase a community's capacity to reach populations who are underserved. They achieve their goals through coordination and provision of services that address health-related social needs. Building the capacity of Community Care Hubs nationwide advances ACL's vision of coordinated person-centered care and services for all community members. 
The NLC will launch in November 2022 and will run through the summer of 2023.